Miami Luxury Realtor Discusses the Exclusive and Distinctive Echo Brickell
February 6, 2023
Top Questions People Ask About Echo Brickell Luxury Condos
Located in the vibrant and growing Financial District, Echo Brickell is a 57-story luxury condominium building designed by one of the world's leading architects Carlos Ott, famous for winning the international design competition in 1983 for the construction of the Opera Bastille in Paris. The building was developed by Property Marketers Group (PMG) and JDS Development Group. "Florida is known for its architecture and the Echo Brickell continues in that tradition. The elegantly curvaceous building is a towering and architecturally significant landmark in the Brickell community," shares the founder of RGL Real Estate and luxury property expert Nick Robinson. "The brilliance of the design is only matched by its amenities."
In this article, the Miami realtor answers the top questions luxury condo seekers ask about Echo Brickell and its location.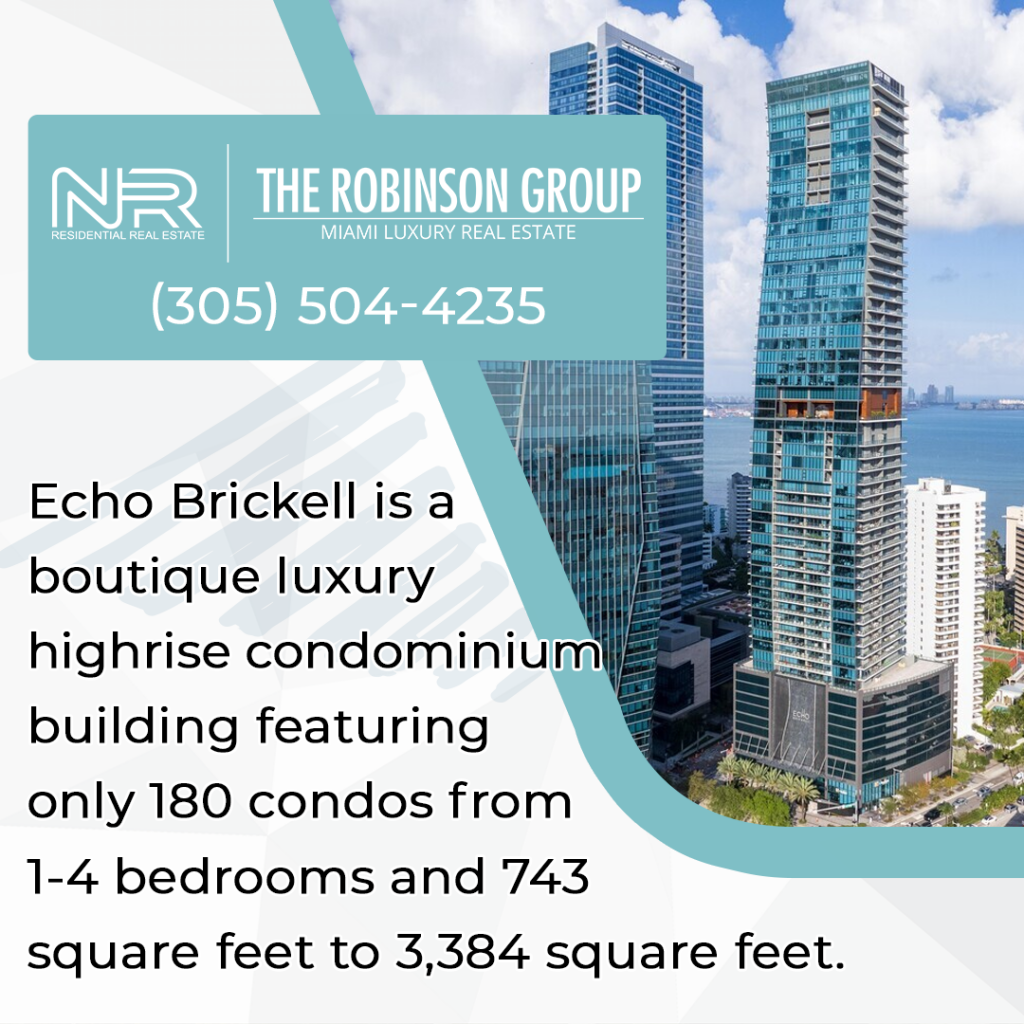 What is Echo Brickell?
Echo Brickell is a boutique luxury highrise condominium building featuring only 180 condos from 1-4 bedrooms and 743 square feet to 3,384 square feet. The two-story penthouse features 5 bedrooms, 7 baths, an indoor lap pool, a private gym, and 23-foot high ceilings, at 11,068 square feet. Designed by world-renowned Carlos Ott, the building is widely considered among his greatest works. Each condo unit was uniquely configured to maximize space, natural lighting, traffic flow, and personal comfort and convenience.
What Amenities Does Echo Brickell Offer?
"The level of detail is demonstrated in the condominium's amenities," says the Miami Realtor. The residents of Miami's exclusive Echo Brickell enjoy a wide range of upscale amenities, including:
Panoramic water and city views

Modern interior design

Outdoor summer kitchen

Barbeque area

Gourmet chef kitchens with top-of-the-line kitchen appliances

Wine storage

Marble floors

Italian glass cabinetry

Expansive terrace

Spa-like bathrooms with oversized soaking tubs

5-star professional concierge staff

Vanishing-edge swimming pool and towel service

Two hot tubs with sunbathing deck

2,800 square foot modern and well-equipped fitness center and spa overlooking Biscayne Bay and Downtown Miami

Food and beverage services

Community room

Secure lobby

Secured parking

Pet walking service

24-hour valet parking service

Sophisticated robotic parking system

Semi-private elevators

A state-of-the-art smart home system with integrated audio, video, and lighting systems
What is the Brickell Neighborhood Lifestyle Like?
Known as "Wall Street South," Brickell is home to many international financial institutions, banks, and business headquarters and is one of the most densely populated areas in Miami. The community features a vibrant nightlife with a wide range of restaurants, exciting rooftop bars, and luxury shopping centers. "The atmosphere is distinctly urban and progressive. The streets are bustling day and night," describes the Miami realtor. "Brickell is very attractive to professionals and those that prefer living a 24-hour lifestyle."
How Accessible is Dining, Shopping, and Entertainment from Echo Brickell?
Another frequent question those looking for the perfect luxury condo ask their Miami Realtor is about access to recreation and entertainment. Echo Brickell is within walking distance of a wealth of entertainment. It is just a few short blocks away from the expansive and exclusive retail district, world-class restaurants, popular spas, exciting bars and nightclubs, and the beautiful beaches for which Miami is known.
Miami Luxury Realtor |RGL Real Estate Group
Whether buying, selling, or renting, if you are looking for a Miami Realtor that deeply understands and can help clients leverage the most complex behaviors of the luxury market, consider contacting Nick Robinson and RGL Real Estate.
RGL Real Estate specializes in the unique needs of properties, their buyers, and sellers. You can visit the website at https://www.rglrealestate.com or reach the group by phone at (305) 504-4235.
RGL Real Estate, LLC
1395 Brickell Ave., Ste 925
Miami, Florida, 33131