Top Questions People Ask About Bristol Tower Luxury Condos
January 27, 2023
Miami Luxury Realtor Discusses Bristol Tower and What Makes it a Desirable Property
Bristol Tower Condo Miami is one of Miami's most renowned Luxury condo highrises. 
Designed by leading architect Luis O. Revuelta and built by Ugo Colombo, the ultra-luxury condo building is one of the most notable examples of curvilinear architecture. 
"Bristol Tower is recognized for its circular design which gives residents a 270-degree view of the Atlantic Ocean, Biscayne Bay, and glittering Downtown Miami," notes the founder of RGL Real Estate and luxury property expert Nick Robinson. "Few condo residences offer this combination of world-class amenities, bayfront location, stunning architecture, and artful design."
In this article, the Miami luxury realtor answers the top questions people ask about Bristol Tower Condo Miami and its location.
What is Bristol Tower Condo Miami?
Located at the heart of the residential district at the southern end of the Brickell neighborhood, Bristol Tower is a 40-story, waterfront, luxury condominium building. Completed in 1993, the world-renown building comprises 147 condo residences featuring between 1-5 bedrooms ranging in size from 1,210 square feet to 7,620 square feet as well as a 7-bedroom penthouse with 9,080 square feet. Its floor-to-ceiling glass windows and wrap-around balconies with glass paneled railings complement the architectural features.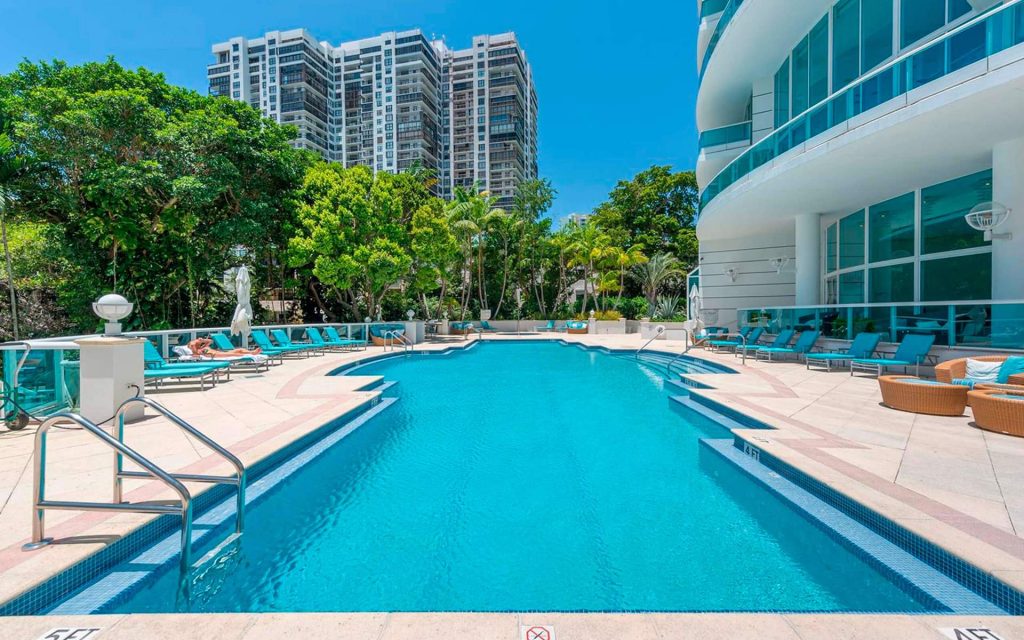 What Amenities Does Bristol Tower Condo Offer?
The residents of Bristol Tower Miami enjoy a wide range of upscale amenities, including:
Chef kitchens with Sub Zero and Miele kitchen appliances

Large terrace

Spa-like bathrooms

Tennis Courts

5-star professional concierge staff

Spacious and well-appointed clubroom and cafe

Onsite convenience store

Private heated swimming pool and jacuzzi

Luxurious sauna

Modern and well-equipped fitness center

Children's play area

Community room

Secure lobby

Secured parking

24-hour valet parking service

Private elevators

Extra storage

24-hour professional security

270-degree views of the Bay and city
What is Bristol Tower's Pet Policy
Pet parents appreciate Bristol Tower's pet-friendly atmosphere. Residents may have 2 pets, each weighing under 50 pounds.
What is the Brickell Neighborhood Lifestyle Like?
Brickell is a major financial district and is one of the most densely populated areas of Miami. The bustling community is known for having a vibrant nightlife with many restaurants, bars, and shopping centers. "The atmosphere is definitively urban, modern, and forward-thinking. The well-lit streets are typically equally busy day and night," describes the Miami luxury Realtor. "It is a community that is very attractive to young professionals and those that prefer living a progressive 24-hour lifestyle."
Is Brickell Miami Walkable?
Brickell is one of the most walkable communities in Miami, with a walkability score of 99 out of 100. Nearly all errands can be accomplished without a car and on foot, with shopping and services within easy reach. The neighborhood is also easily traversed via rideshare, bus, and train.
Does Bristol Tower Have Access to Dining, Shopping, and Entertainment?
Another top question those looking for the perfect luxury condo ask their Miami luxury realtor is regarding the level of access to entertainment. Bristol Tower is ideally located to enjoy phenomenal recreation, shopping, dining, and entertainment. Residents enjoy world-class restaurants, arts, boutique shopping, exciting bar concepts, parks, and more.
Miami Luxury Realtor |RGL Real Estate Group
Founded by South Florida real estate agent Nick Robinson, RGL Real Estate is a top-producing boutique agency. As a trusted Miami luxury Realtor, Nick works closely with buyers and sellers, educating them about the South Florida market.
If you are looking for a Miami Realtor that deeply understands and can help clients leverage the most complex behaviors of the luxury market, consider contacting Nick Robinson and RGL Real Estate. You can visit the website at https://www.rglrealestate.com or reach the group by phone at (305) 504-4235.
RGL Real Estate, LLC
1395 Brickell Ave., Ste 925
Miami, Florida, 33131